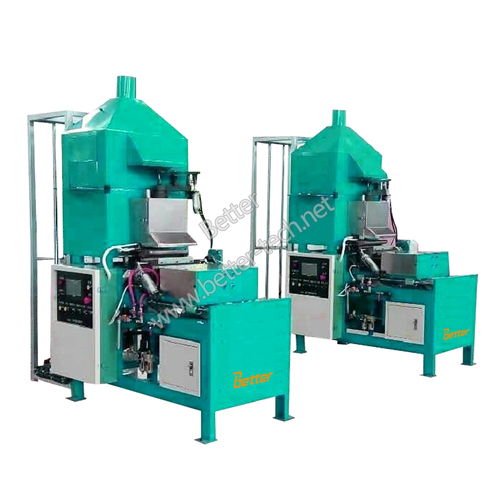 Lead part casting machine
Product Description
Application:
The machine is specially designed for making all kind of lead parts, which are used for lead-acid battery industry. It adopts PLC and HMI control. It is easy to operate, environmental protection,energy-saving, high efficiency, safe and reliable, it can save above 75% manpower.
It can realize fully automatic operation, to avoid the operator to touch with lead directly. One worker can operate 3-6 machines at the same time. It can realize unattended operation as the machinewill stop automatically if there is any malfunction like clamping mold in the production. The scrap will be automatically returned to the furnace for melting. By using the microcomputer control, the operation of each mold is fixed, which can ensure the mold opening rate and ensure the quality is more stable.
:
1. It is controlled by PLC and HMI. It is easy to operate with stable performance.
2.The scrap will be automatically returned to the furnace for melting. The lifting system adopts the optical axis slider mode. The movement is smooth and stable. It won't get stuck. (It is different from other companies, who use square tube, which is easy to wear and stuck). In order to ensure the machine quality and stability, the optical axis adopts high precision optical axis material.
3.The mould is made of spheroidal graphite researched by ourselves for 20 years. The tensile strength reaches qt-550-650-2.0-2.5, the yield strength/ plasticity/ impact toughness is greatly improved, and the durable anti-deformation process property is good.
4. It is easy to change the mold. It only takes 5 minutes.
5.The critical part i.e. lead liquid feeding system is completely independently developed and designed by ourselves. It is pioneering in China. It does not use the lead cup to feed the lead liquid. It can avoid jamming from the lead dross and avoid lead leakage. Meanwhile, it doesn't need to change the spare parts. The accessories adopt special material and special handling. Verified by thecustomers, the service life of the lead valve is more than one year.
6.The material of lead tank is stainless steel. The seal cover of lead tank is made of stainless steel. It is environmental and beautiful.(other companies use iron sheet to make it)
7.The lead liquid pouring system adopts motor for pouring. It can keep the fixed volume of the lead liquid and works stably. It can avoid the unstable lead liquid volume due to unstable pressurecaused by using cylinder.
8.According to the pollution control regulation, there is a lead smoke hood and air outlet for matching and connecting the environmental protection device.
Specification
one pot one machine

one pot two machines

Model

-2

-2S

Lead Pot Power

12 kw

18kw

Lead Tank Power

3 kw

3 kw * 2

Lead Pot Capacity

700kg

1200kg

Operator

1 person

1 person

Basic Average Efficiency

4 molds (per minute)* 60* 8 hours =1920 molds* cavities per mold

2* 4 molds (per minute)* 60* 8 hours= 3840 molds* cavities per mold