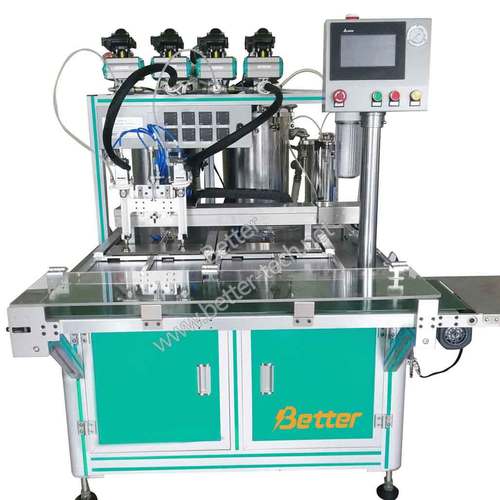 Epoxy dispensing machine (Lid)
Product Description
1. Introduction
* Model: double system metering, double nozzles
* Dimension (L*W*H): 1650mm×1450mm×1550mm
* Production Capacity: >800pcs/hour, 6000~8000pcs/8 hours
* Applicable Cover Range: battery cover with dimension less than 265mm*170mm*30mm (L*W*H)
* Applicable Epoxy/Glue: epoxy for cover dispensing or terminal glue
* Proportion: definite proportion (100:50±2%) or designated by the buyer ±2%
2. Equipment Composition
1) Frame: composed of heavy load type aluminum profile; surface is with electrophoresis treatment; color is silvery, sheet metal is dark blue.
2) Pressure vacuum material barrel with mixing; Material: SUS304
3) 2 groups (4pcs) of precision metering gear pump epoxy output control unit
4) Three- axis manipulator dispensing unit
5) Automatic cleaning unit
6) Conveying unit
7) Automatic electrical control unit
3. Principle
The machine is controlled by the PLC, the human-computer interaction and parameters setting and recall is through the touch screen. The epoxy is output quantitatively with the force of the servo motor by driving the precision metering gear pump, and the AB epoxy is mixed by the static mixing module, achieving three-axis dispensing module.