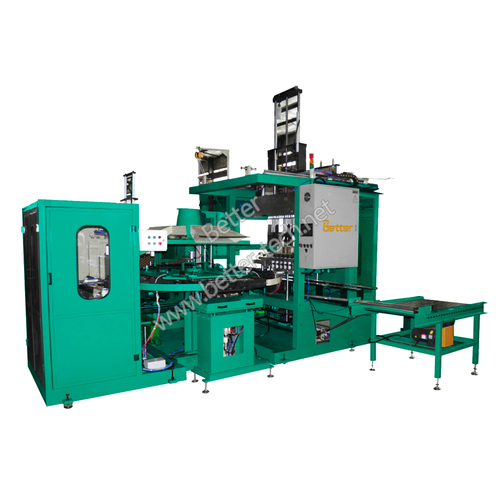 Automatic COS machine (Car battery)
Product Description
Automobile Battery 1*6 Type
1. Application Range and Advantage:
for PE-AGM Batteries, 2.5-3.0 batteries/minute
Fully automatic operation:
Enveloped plate groups conveying, plate group loading, side lug clamping, plate group alignment, lug brushing, flux dipping, bus bar casting, automatic container insertion.
Different battery model changing time: 20-30 minutes
2. Detailed process:
Automatic robot for plate group loading system, automatic COS machine, automatic container insertion machine, these three systems can work independently and also can be matched for automatic configuration.
Automatic COS machine:
1st alignment
2ndug brushing, flux dipping, drying and tin coating
3rd casting
4th station: insert the plate groups into the battery container
3. Features:
* Apply to lead antimony alloy or lead calcium alloy, lead calcium tin alloy;
* Four stations working: automatic plate group loading and alignment; brushing lug and dipping soldering flux automatically; automatic welding; automatic container insertion;
* The fixture adopts double-action plate as clamping mode, fixture is same for battery smaller than 12V100Ah;
* Soldering flux for COS machine has two kinds, i.e. water-based and oil-based, water-based welding effect is better.
* According to the lug width the bus-bar size can be added 1.5mm on both sides, the minimum thickness of bus-bar can be controlled around 7 mm;
* Mold changing time is about 30mins; mainly depending on your operation skill;
4. Equipment Details
Applicable battery dimension: L =185-410 , W=125-180, H=175-250 ( mm)
Pneumatic parts: AIRTAC - SMC
Electricity:
Motor: 10kw;
Mould : 18kw;
Melting Pot: 18kw
Pre-heating mould: 18kw
Melting Pot: electric furnace
Mitsubishi PLC control, Mitsubishi human machine interface (optional)
Japan Keyence / Omron / Mitsubishi sensor (optional)
Dimension / Weight : L*W*H=3800*3600*3200mm; Weight=11000kg
5. Consumption:
| | |
| --- | --- |
| Standard Power Supply | 220/380/440V, three phases, 50/60HZ |
| Compressed Air | 5~6kg/cm2 |
| Cooling Water | 2~4kg/cm2 |